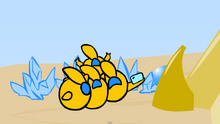 The Probe is the basic construction protoss unit who collects minerals and vespene gas.
Known Probes
Edit
Selfie probe/s ("A Miner Probelem" and StarCrafts Mod's probe portrait only)
Green probe/Grinch probe ("The True Meaning of StarCraft" and episode 17 as a cameo only)
Red probe (Season 3 only)
Probius
The probe's design has been simplified in "Valentine's Day Special", turning them to ball-shaped units with a plated eyebrow.
The probe's attack strength has been reduced in the beginning of season 3, under "Not Enough Minerals".
On "A Miner Probelem", the selfie probes have been used in the StarCrafts Mod for the unit portrait.
See Also
Edit