Sarah Kerrigan is a Coop Commander in StarCrafts and a Melee Assassin Hero in HeroStorm. She is one the most prominent character in the entire StarCraft franchise and the protagonist in Heart of the Swarm expansion.
Biography
Edit
Sarah Louise Kerrigan was a psychic terran female. She began her career as a Confederate ghost and later became the second-in-command of the Sons of Korhal. Following Arcturus Mengsk's betrayal, she was captured and infested by the Zerg Swarm, ultimately becoming the self-proclaimed Queen of Blades (a.k.a. the Zerg Queen) and leader of the Swarm.
Depiction
Edit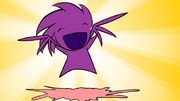 Appearances
Edit
Abilities
Edit
External Links
Edit
Community content is available under
CC-BY-SA
unless otherwise noted.