"I must be getting old."
―Zeratul
Zeratul is a prominent character in StarCrafts and a Melee Assassin Hero in HeroStorm. He was a revered Nerazim mystic.
Biography
Edit
During the Great War, Zeratul allied with the Khalai Tassadar, despite his hatred for the Conclave that once banished his forbears. The Dark Templar personally slew the cerebrate Zasz, but in turn accidentally gave the Overmind the location of Aiur. Zeratul was manipulated by Sarah Kerrigan during the Brood War into killing the Second Overmind and Raszagal, the Dark Templar Matriarch. These events, and the discovery of the hybrids, led Zeratul to go into seclusion to contemplate his actions and investigate. As the Second Great War approached he began to take a more active role once again.
Depiction
Edit
all he wants is rage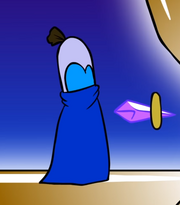 Appearances
Edit
Abilities
Edit
External Links
Edit
Community content is available under
CC-BY-SA
unless otherwise noted.